BGR Annual Luncheon 2023
Friday, November 17, 2023 (11:00 AM - 1:30 PM) (CST)
Description
Join Ellevate Louisiana at our reserved table as we attend the The Bureau of Governmental Research (BGR) 2023 Annual Luncheon on Friday, November 17th, featuring Dr. Richard Haass, author of The Bill of Obligations: The Ten Habits of Good Citizens. The event is co-sponsored by Hancock Whitney and Luzianne Tea, with a VIP reception sponsored by IMTT. The luncheon will begin at 12 noon, with registration and cash bar opening at 11 a.m.

Dr. Haass, a veteran diplomat and respected scholar of international relations, writes in The Bill of Obligations that the most dangerous threat the United States faces comes "not from abroad but from within, from none other than ourselves." His book explores the crisis created by political divisions in the U.S. and the roadblocks they present in addressing our economic, social, and political problems; articulating a coherent foreign policy to meet global challenges; and realizing our country's potential. We as citizens must confront this crisis in our democracy, Dr. Haass says, and come to a new understanding of citizenship. The Bill of Obligations offers a bold challenge to re-envision citizenship not just as a package of rights, but of both rights and obligations. Among these obligations, Dr. Haass calls for citizens to "get involved," "stay open to compromise," "promote the common good" and – at the heart of BGR's mission of providing the public and policymakers with independent, nonpartisan research – "be informed." Dr. Haass will explore these and other themes from his book in his 2023 Annual Luncheon presentation, "Balancing Rights with Obligations: Rethinking Democracy and Citizenship," which is part of the Janet Howard Speaker Series in Governmental Research.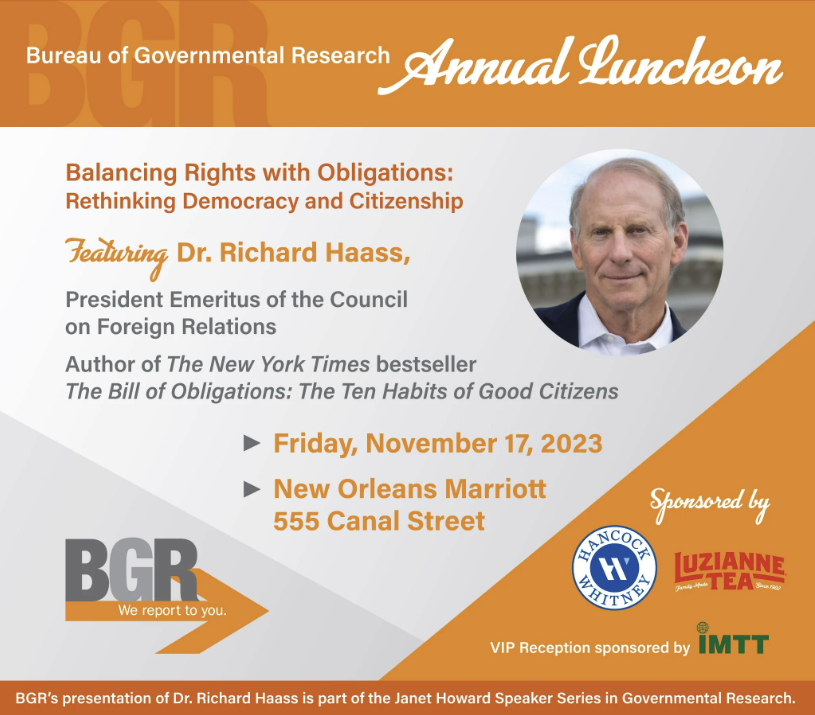 New Orleans Marriott
555 Canal St.



New Orleans

,

70130



The event will be held in Ballroom 3, located on the third floor, which is accessible by elevators and escalators. Registration and a cash bar will open at 11 a.m. The luncheon will begin at 12 noon and conclude by 1:30 p.m.
Friday, November 17, 2023 (11:00 AM - 1:30 PM) (CST)