Broadband Roundtable with Veneeth Iyengar
Wednesday, April 7, 2021 (11:30 AM - 1:00 PM) (CDT)
Description
Join Ellevate Louisiana for a roundtable discussion on broadband issues ahead of the legislative session with Veneeth Iyengar, the First Incoming Executive Director of Broadband Development and Connectivity for the State of Louisiana
---
Agenda
11:30AM. Doors open and networking
12:00PM Interview with Veneeth Iyengar
12:30PM. Q&A with Veneeth Iyengar
1:00PM Adjourn
---
About Veneeth Iyengar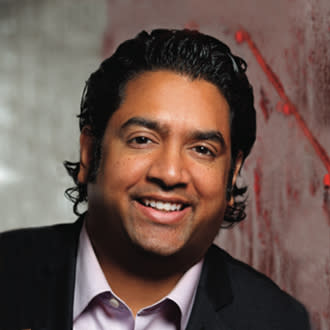 Veneeth Iyengar is currently Assistant Chief Administrative Officer for the City of Baton Rouge/East Baton Rouge Parish. He directly works with Mayor-President Broome on executing her mission of quality service, innovation and efficiency in partnership with the citizens of the city/parish of East Baton Rouge.
Baton Rouge, La has a budget of close to $1 Billion and Veneeth specially leads two department (Purchasing and Procurement and Information Services) along with crafting her vision for Economic Development, Small Business and Innovation. In addition he has oversight over the Raising Canes River Center, Baton Rouge Film Commission and Mayor-President's Veterans Advisory Council.
Economic Development:
• Veneeth is the lead City/Parish executive from the Mayor's Office to the Baton Rouge Area Chamber. 2019 resulted in the best year in history for Economic Development projects in the parish in terms of Capex, projects secured and diversity of projects – his role includes outreach to CEO's and executives from leading tech, pharma and healthcare companies throughout the country and is involved intimately in the sales cycle of economic development deals
• He is the primary lead in developing Public Private Partnerships to fill the gap for small-businesses which has resulted in the following:
o Recruiting eBay's Retail Revival program (6th City in the country) in 2019 which resulted in 50+ businesses impacted and over 40 jobs created
o Led the develop of a $1MM microgrant program with Investar Bank, GMFS Mortgage, P&N, Exxon and others for small business impacted by Covid-19
o Led the creation of the Baton Rouge Procurement Opportunity Partnership Program which brings together Procurement managers from leading local companies to buy locally from small businesses – Over $7MM has been purchased since May of 2019
Further, Veneeth has been tasked with addressing healthcare challenges that exist in the Baton Rouge market by focusing on structuring and executing public/private partnerships with the Healthcare Venture Capital/Private Equity Community and working with their portfolio companies to address the social determinants of health. Through this approach, he has delivered results such as the reopening of a shuttered large medical office building in an area of disinvestment that will employ over 100 people in areas of primary care, behavioral health etc. Recently, he was asked by Governor John Bel Edwards to Co-Chair his Resilient La. Healthcare Task Force which included the CEO's of Ochsner, BCBS La, Franciscan Health System and Executives from the leading healthcare providers in the state. Through this task-force, he led the creation of a report that provider recommendations that were focused on how to create an innovative healthcare economy given the challenges faced during the pandemic.
He was awarded by the Director of the US Peace Corps the prestigious Franklin Williams Award (only 101 have been awarded since 1999) which honors outstanding returned volunteers who best exemplify the best of those who have made large impacts abroad and the US. In addition, he was named a 2018 40 under 40 in Baton Rouge by the Baton Rouge Business Report, named a 2020 Leadership Louisiana Recipient by the Council for Better Louisiana, elected on the Board of the Pennington Biomedical Research Foundation in 2019 was named Chairman for Innovation Catalyst, an evergreen investment fund in 2019.
He received his Masters in Science -Finance from Johns Hopkins University and his Bachelors in Science in Economics from Purdue University. Veneeth grew up in Baton Rouge and is a proud Louisianan
Images
Event Contact
Christy Marino
Wednesday, April 7, 2021 (11:30 AM - 1:00 PM) (CDT)
11:30AM-1:00PM